TO DOWNLOAD/INSTALL AND UPLOAD YOUR WEBSITE USING CYBER DUCK ON MAC OS X
Helpful Hint!
Before you start you will need to have your hostname, FTP username and FTP password which can be found in your online control panel or welcome documentation.
A

Downloading & Run Cyberduck
1
In order to upload your website to the internet you will need to download an FTP Client.
Download Cyber Duck from here
2
Click the "downloads app" from the dock and open the file you just downloaded
3
Right click on the downloaded app and click Open
4
Agree that you wish to run Cyber Duck from an unidentified developer by clicking Open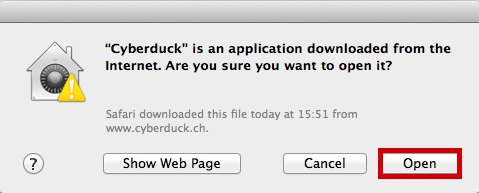 5
You can now copy the App onto your Dock
B

Connecting to your website via FTP using Cyber Duck
You now need your username,password and hostname for this section
1
Launch Cyber Duck from your Dock
2
Click Open Connection
3
Enter your Hostname, username and password in the relevant boxes and click Connect
| | |
| --- | --- |
| Host : | ftp.yoursupportservices.co.uk |
| Username : | ftp-username |
| Password: | • • • • • • • • • |
ftp.yoursupportservices.co.uk
ftp-username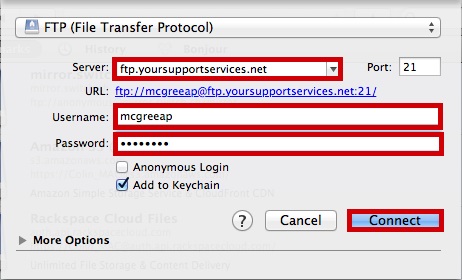 You will need to know where your website files are located for this section
1
Open the WWW folder in the webspace
2
Select Actions Upload
3
Navigate to the Website files on your computer
4
Highlight your site files (left mouse click and drag over the top of them), you will know they are highlighted when they turn blue, then click Upload
5
The Transfers window will advise the status of the upload
6
Browse to your website on the internet to confirm it is displaying correctly on the internet