TO EDIT YOUR SETTINGS IN OUTLOOK EXPRESS (IMAP)
1
Start Microsoft Outlook Express, select Tools » Accounts.
2
Select the Mail Tab, Highlight the account you want to change the outgoing port for and click properties
your.name@domain.com
3
Select the servers tab, make the following changes and click OK
SERVER INFORMATION

Incoming Mail Server
FROM:
imap.********.***
TO:
imap.iomartmail.com
Outgoing Server
FROM
smtp.********.***
TO:
smtp.iomartmail.com
LOGON INFORMATION

FROM:
username
TO:
Your email address or the username configured in your CP.
Tip – keep the username the same – and simply add "@yourdomain.com" to it.
ADDITIONAL INFORMATION

My Outgoing Server Requires Authentication :
imap.iomartmail.com
smtp.iomartmail.com
your.name@domain.com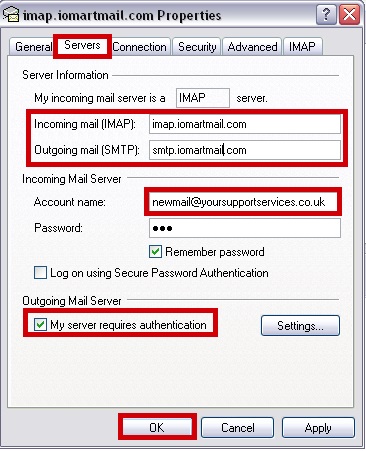 4
Click Close
imap.iomartmail.com