TO EDIT YOUR SETTINGS IN WINDOWS 8 MAIL (IMAP)
1
In the Mail app, swipe from the right-hand bezel of the display towards the centre to bring up the Charms bar, and tap Settings at the bottom.
2
Underneath Settings, tap Accounts.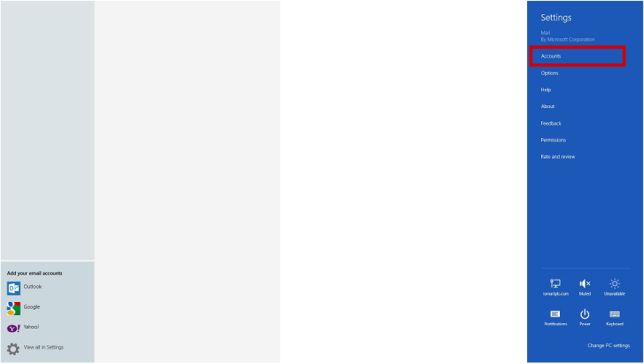 3
Underneath Accounts, tap The account you want to edit
4
Scroll Down until you come to User Info and Server Details
The following amendments need to be made
SERVER INFORMATION

Incoming Mail Server
FROM:
imap.********.***
TO:
imap.iomartmail.com
Outgoing Server
FROM
smtp.********.***
TO:
smtp.iomartmail.com
LOGON INFORMATION

FROM:
username
TO:
Your email address or the username configured in your CP.
Tip – keep the username the same – and simply add "@yourdomain.com" to it.
ADDITIONAL INFORMATION

Outgoing Server requires Authentication :
Use the username and password to send and receive email
your.name@domain.com
your.name@domain.com
imap.iomartmail.com
smtp.iomartmail.com
5
Click the Back button in the settings tab to save the changes